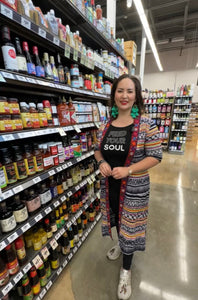 Date: Sunday, April 30, 2023
Time: 6pm-8:30pm
$75
It's time for a fun outing with Chef Nikky at a local Asian Supermarket as she gives you tips and tricks on what to buy at her favorite spot. After an hour of shopping, we will all drive to Asian Mint on Forest Lane to have dinner and have more discussion on how to set up an Asian Pantry and start adding Asian flavors into your everyday cooking. 
Price includes dinner, non-alcoholic drinks, and a tour of the supermarket. Chef Nikky will also throw in a surprise gift!
You will be driving from the supermarket to Asian Mint in your own vehicle. We will end the class at the Asian Mint Forest and Central Location. Starting Supermarket will be revealed closer to the event date.
Limited to 10 foodies.
Ending Location:
ASIAN MINT FOREST LANE
11617 NORTH CENTRAL EXPRESSWAY SUITE#135
DALLAS, TEXAS 75243
(214)363-6655