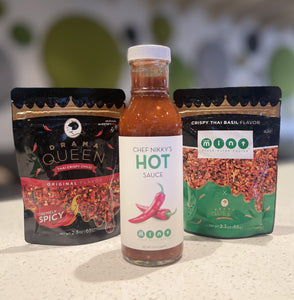 Enjoy Chef Nikky's Hot Sauces
This kit contains the following: 
Hot Sauce | Drama Queen Original Flavor | Drama Queen Basil Flavor
Hot Sauce
This hot sauce provides you with an explosion of heat with a hint of acidity! Elevate any dish with the addition of this hot sauce and give your palate a delightful spicy surprise. 
Vegan & Gluten-Free
Ingredients
Chili, salt, distilled vinegar, potassium sorbate, sodium bisulfite as a preservative, and xantham gum
 Drama Queen
Dramaqueen Thai Crispy Chilli spice mix is a Thai royal crispy chili oil spice recipe that has the perfect combination of spicy chilis, garlic, and delicious oil that accompanies any dish! Pick up a packet now and you'll understand why it's called Dramaqueen!